Mens Sandals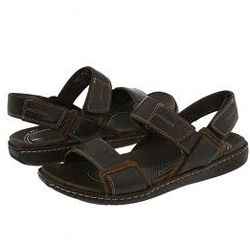 Not every man can live in the tropics year round, but for that islander appeal there are a great variety of mens sandals which can make you look and feel like you just stepped into a tropical paradise. From simple flip flops to trendy Dockers, there is a shoe to fit every fashion and every mood. While it is possible to get dime store specials, if you are truly concerned about style and safety as well as comfort, take the time to consider mens sandals manufactured by designers who place that extra effort in every pair.
Diesel Line by Renzo Rosso
One of the most popular thongs in the Diesel mens sandal line by Renzo Rosso is the Men's Crest in either white or black. These three point flip flops with the Diesel logo accent places a signature textured detail on the rubber vamp straps. Generally retailing at around $35, for a stylish, yet cushioned casual thong, these fashionable shoes are hard to beat at that price.
It's in the Name – Dockers
When a name says it all, you know you are in the right place for casual men's shoes. For many years Dockers has been a presence to contend with in the fashion world when it comes to nautical, outdoor clothing and shoes. Two pair of mens sandals by Dockers stand out from the crowd when it comes to leather mens flip flops. Both Colfax retailing at $57 and Glendale at $62 are among the most comfortable yet fashionable and affordable leather upper mens sandals on the market.
Kenneth Cole of New York
There isn't a man on earth who wouldn't treasure a pair of shoes designed by Kenneth Cole and for that laid back persona, the Men's Party Host genuine leather upper flip flop is the shoe to consider. Party Host retails for $59 and comes in a variety of colors, among which are black, grey and brown. In fact, if you find the right merchant, you might even find these shoes at a discount which makes them an even better buy for the money.
Puma for the Athlete in You
Since 1948, Puma has been fashioning sports shoes and boots and has earned a worldwide reputation for being at the top of their game. Shoes manufactured under this label are constructed to provide both comfort and support as they are shoes worn by the pros. In their line of men's sandals, the Layered Flip with the Puma logo is notable for its cushioned textile footbed and flexible insole. The rubber traction outsole makes this the perfect flip flop for the sports-minded man and they are reasonably listed at $35.
These are just a sampling of what's available out there, so take the time to shop around. If you want the absolute best prices in mens sandals and flip flops, shop off season and buy online. Most online merchants will have a number of deals that are hard to resist. Some offer free shipping while others have major markdowns because of lower overhead. In any case, if you are looking for mens sandals, remember that quality and fashion do come with a price, but your feet are worth a few extra bucks.