Flip Flops for Women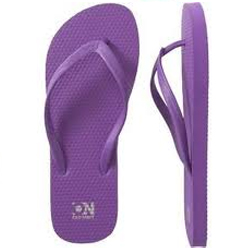 Both men and women can readily wear many styles of flip flops, but there are unique flip flops for women which are designed with a special feminine flare. Many of these are, in fact, so fashionable that they can even be worn with 'dressier' outfits without sacrificing good taste. From bling to metallics, there are flip flops for women that appeal to her feminine side while accentuating her sexy legs and feet. Here is just a sampling of what you can find if you look around a bit. You will be amazed at how stylish and attractive women's flip flops can be.
Havaianas Crystal Flower Flip Flop
Moderately priced at $38 retail, Crystal Flower flip flops for women are available in Super Pink, Graphite and White. With a Swarovski crystal heart above the toe thong and the signature Havaianas logo on the T-strap, any lady would be proud to own a pair of these rubber thongs made in Brazil.
Stargazer by Reef
Even more reasonably priced, retailing at $21.95, Stargazer in Purple, Dark Grey or Black are particularly attractive because of the sparkles that line the T-strap. These sandals are especially attractive in the nightlights where they pick up the light and add that extra spark to her steps, on the beach and off.
Jax by Callisto
Callisto is a brand of footwear in the J & A Shoe group that has a number of high end designer flip flop sandals also including the brands Lia Bijou and Athena Alexander. Based in Gardena California, the Jax flip flops for women can be worn to the fanciest of restaurants without batting an eye. With a gem lined T-strap, Jax are available in Black, Brown and Yellow and they sport a cork wedged heel.
Animal Print Flip Flops
Speaking of the J & A Shoe Company, Lia Bijou has a spectacular leopard print leather upper flip flop sandal for women, the Sabina. This particular shoe has an anatomic heel for enhanced comfort and is available in one animal print in sizes 4 through 12 medium. Reviews state that the Sabina runs small so it is suggested that you go one size larger than you normally would take.
Jeweled Pietra FitFlops
For the active woman who wants to tone and work those leg muscles, the jeweled Pietra FitFlop is the perfect shoe. While not quite your traditional flip flop with a one inch platform and a one and a half in heel, the Pietra by FitFlops is totally 'woman.' The T-strap is lined with three large gems that make these shoes reminiscent of ancient Egypt and the days of that timeless seductress, Cleopatra.
Flip flops for women need to have that special something which brings out the feminine side of a woman that unisex sandals just can't do. They are often spattered with bling, accented with bows, crystals, and flowers or simply done in bright pastels and whites. Most designers carry a line of flip flops for women that can be worn to the finest affairs while also providing a shoe that is at home on the beach. But each and every pair is fashioned with that soft and feminine lady in mind.