Inexpensive Flip Flops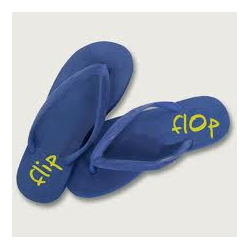 This is the time of year to actually begin looking for inexpensive flip flops. Many merchants are sorting through last season's inventory and selling good quality flip flops for prices that are really quite low. If you are looking for inexpensive flip flops, try to find the best quality from top name designers that have been discounted instead of going to the corner store for a cheap pair that won't last. Buying a pair of inexpensive shoes of any type doesn't mean you need to sacrifice quality. It simply means you need to be a savvy shopper who knows where to get the best deals.
Cheap Flip Flops are NOT Inexpensive
The first rule to learn when looking for inexpensive flip flops is to understand that cheap flip flops are not really inexpensive. They are poorly crafted from cheap materials that will literally disintegrate after just a few wears. Within just a few days the sole wears down to being paper thin and the thong between the toes is so harsh that you end up with some serious blisters. Week after week you buy another pair which at best cost $3 or $4. By the time you spend $24 replacing cheap flip flops with a new pair, you could have had a brand name for the same price that you would still have in your closet at the beginning of the next warm season. Remember, cheap flip flops are not the same thing as inexpensive flip flops.
Brand Name Inexpensive Flip Flops to Look For
In recent years a few names have emerged in brand name flip flops. Any shoe sold by Sanuk, Reef or Havaianas is most often moderately priced but made from high grade materials. You can find a good pair for anywhere from under $20 to $40 that will last more than one season if cared for. Many styles are crafted with suede insoles and leather uppers and some even have recycled rubber soles that are environmentally friendly. If you are going to wear a pair of inexpensive flip flops, consider doing less damage to the world we live on at the same time. Remember, cheap flip flops are often disposable and you are doing a great deal of damage to the environment when buying pair after pair. They are disposable – not biodegradable!
The best place to find inexpensive flip flops is to look for online sales. You can often find designer shoes for greatly reduced prices because of the low overhead involved in running online shops. There is no reason to settle for anything less than a good shoe manufactured by a reputable company when you can find such good bargains. As a matter of fact, inexpensive flip flops can also be found from merchants who offer free shipping. This makes a good deal even better.