Flip Flop Manufacturers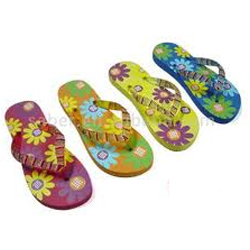 Starting your own brand of flip flops may seem like a difficult task, especially to someone that has no experience in selling and branding and retail clothing and footwear. However, with the right tools, resources, and industry connections, it is possible to create, manufacture, and distribute your own brand in no time. Unbranded flip flops are typically known as OEM (original equipment manufacturing )products, and are therefore much cheaper per unit than conventional branded flip flops, even if the materials and designs are exactly the same. Purchasing OEM flip flops in bulk from reputable flip flop manufacturers is the easiest way to begin building and establishing your own brand of flip flops with minimal investment and monetary risk. The following information describes the process of finding, contacting, and doing business with flip flop manufacturers.
How to Find Flip Flop Manufacturers
The best way to find flip flop manufacturers is to use business-to-business networking websites like AliBaba.com and Globalsources.com, which provide the perfect marketplace in which you can find various suppliers, distributors, and manufacturers in any industry. In general, a business-to-business networking site will allow you to find business partners based on a predefined set of criteria through a comprehensive search function. Most of the time, there are pictures and maybe even a manufacturer's catalog displayed directly within their profile on the B2B (business-to-business) networking site. Other times, the profile will simply provide a link to their website, and additional contact information such as telephone numbers and administrative e-mail addresses. Many flip flop manufacturers will require you to submit a customer inquiry via the contact form on the B2B website, after which they will usually respond to you via e-mail or telephone within 24 to 48 hours.
How to Submit an Inquiry and Get the Best Prices from Flip Flop Manufacturers
When submitting an inquiry to a prospective flip flop manufacturer, in essence of time and productivity, it is best to include all of the necessary information and questions within a single e-mail. The writing style for the e-mail should be formal, with the appropriate business greetings and salutations. Be sure to ask for a price list or catalog if one is available, as most reputable flip flop manufacturers will have a preset pricing structure for bulk orders. The best way to get the cheapest prices per pair of flip flops is to make larger orders and shop consistently with the same flip flop manufacturers. Some manufacturers and suppliers will have loyalty programs that allow you to build up rebates and discounts as you make orders over time.
How to Specify Requirements and Deal with Flip Flop Manufacturers
Since most flip flop manufacturers have an extensive catalog of premade products, and the ability to create custom products, it is imperative to ensure that all specifications and requirements are described in detail before placing an order. The main design attributes of the flip flops should be discussed thoroughly, including which materials will be used, what sizes you'll the ordering, what logo should be printed on the flip flops, and any other specific details that will be important for the manufacturing process. For those that do not want to endeavor into extensive communications for creating custom flip flops, purchasing units of premade OEM flip flops and branding them independently with a logo press may be more suitable option.