Flip Flops Wholesale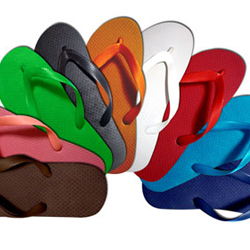 Buying flip flops in bulk has many advantages for consumers as well as store owners. With many of the myths of purchasing flip flops in bulk debunked, this type of sale is one that has been on the rise for quite some time. They are profitable for store owners who organize sales with them, as well as lucrative to the customer who gets to buy an already cheap pair of flip flops at an even lower price.
All parties profit from buying flip flops in bulk
While purchasing sandals in bulk the buyer often receives them at large discounts from the wholesaler. Those discounts are in turn factored into the selling price per pair, which results in sharper special offers for customers who now  can obtain the flip flops at much lower prices. That way everybody wins. The wholesaler gets rid of left over stock, while the store owner increases sales by offering the pairs of flip flops at discounted prices. The customer wins because he or she can obtain the trendy foot wear at even lower prices than usual.
Variety
When buying flip flops in bulk the buyer has a choice from an immense assortment, thanks to the Internet, which has brought all wholesale companies within reach, and easy to find thanks to search engines like Google. Most wholesale companies are geared towards supplying smaller stores, which results in relatively small amounts of flip flops that still qualify as bulk purchases, which makes it possible to buy several types of flip flops through different wholesalers. This of course works wonders for the variety of the assortment of flip flops.
Risks of buying flip flops in bulk
When purchasing large amounts of anything, there is always the risks of being left with remaining stock that is unsold. In some cases store owners can make arrangements with wholesalers, allowing them to return the unsold pairs at a discounted rate. This may cause a small loss on the investment, yet safeguards the store owner from much more substantial losses. However, usually left over pairs of flip flops are usually placed in storage and used for a opening sale in the spring season, which makes the complete bulk purchase profitable again for the store owner as well as the customer because he or she has the opportunity to buy the flip flops at large discounts even at the beginning of the high season when prices for sandals are at their highest. Store owners engaging in sales like that during that period have a distinct advantage over their competitors who don't organize similar sales.
Overall, it is safe to say that purchasing flip flops in bulk is a win/win situation for all parties involved, and a practice that is increasing in popularity year after year. Add to this the fact that flip flops are a timeless fashion item, and it is another safe bet to assume that we will continue to see a sharp increase in flip flops in bulk purchases in the coming years.