Baby Flip Flops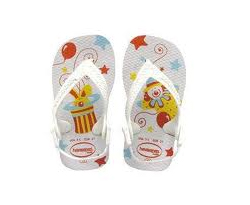 Flip flops used to be of primary importance in casual wear around the house in yester years. As of now they have been spotted even in the White House. Earlier only men and women used to wear them on beach. Now there is no age or gender restriction to enjoy the designs and comforts of flip flops. They are worn even on occasions like parties, beach weddings, garden BBQs etc. Some girls go to the extent of wearing them to proms.
Baby flip flops are the cutest thing on earth starting from your love for your little bear or doll. Even the babies would love to have them adorn their pink feet on pool and other occasions.
Baby Flip Flop Material
Colorful designs are made on soft rubber for the tiny feet and back straps to prevent them for falling. The soft heel elastic strap makes baby flip flops less noisy. The interior foot base is fine and smooth. They are designed to cling on to those feet even if the baby becomes clumsy or very busy.
Tips to remember
The first thing is to go for health and safety for babies and kids alike. Companies have already responded to the number one concern of parents by providing ankle straps that prevent baby flip flops from falling off and also any injury to the exposed feet. As babies don't have a stable walk, ankle straps prevent their fall. Arch support should also be very strong. Finally, for baby's comfort it is your job to see if the baby has any rash or swelling, go for another pair or some other footwear altogether. Also make sure that baby flip flops are not heavily studded or have tiny embellishments on them that can make their way into the baby's mouth. For increased safety with ease of choice, go for the following pairs:
Havianas Baby Flip Flops
They come in plain light colors to darker ones. Colorful designs and floral patterns are also available to match them with your cutie pies pajamas or jumpers.
Mud Pie Baby Flip Flops
They offer a perfectly princess model for your doll. These baby flip flops are decked up with tons or ribbons, curls and pretty flowers. The sole has EVA foam for comfortable all day wear. Prices start at $21.
Crocs Baby Flip Flops
The durability in adult wear has been passed on to baby flip flops. The Kids Wave model from $14.99 gets a cool look with splashing colors. The thick sole is made of foamy Croslite for wearing them throughout the day.
Teva Baby Flip Flops
The Mush flip flops for adults have come in baby sizes as well, much to the pleasure of moms. The upper band has vibrant colors. These baby flip flops have a stretchable heel strap with a Durapontex EVA sole giving a cushioning effect.
Old Navy Baby Flip Flops
Old Navy is known for young and trendy designs. They start only at $3.50 with playful styles. Elastic sling-back straps hold the tiny feet securely and the foot bed provides lots of cushioning with traction soles.