Girls Sandals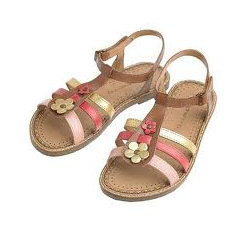 Shopping for girls sandals can be a lot of fun when you see all the trendy styles out there! While there are many pair of traditional leather and faux leather sandals for girls, most of them just aren't exciting. Girls flip flops, however, are another thing altogether. Many designers are 'glitzing' them up with neon colors, lots of bling and everything 'girly' at the same time. They can be reasonably priced at under $10 or they can be a bit pricier, depending on the designer. One thing is for certain and that is that you will actually enjoy looking at all the trendy styles for girls young and old.
Girls Sandals – B.O.C. Flip Flops
One of the most charming 'girly' sandals is manufactured by B.O.C., the Kid's Paige flip flops in fuchsia or white. They are a thong sandal with a feminine floral embellishment and the insole is cushioned and comfy. There is a tiny flat heel on the rubber outsole and the shoes have a faux leather thong upper. The shoe lists for $39.99 but this is a good price considering it is possible to find them at an online merchant that offers free or reduced shipping.
Kids' Enchanting by Volatile
Another style in girls sandals that is really huge at the moment is anything done in animal print. Kids' Enchanting by Volatile come in either leopard or zebra, but the zebra is the print that most girls love because the print has a pink outsole, insole and thong between the toes. The leopard is manufactured in much the same way but with blue instead of pink. The Kids' Enchanting girls sandals are priced at $26 and can also be found at online merchants that have free or expedited shipping at no extra cost.
Havaianas Girls Flip Flop Sandals
What little girl wouldn't love a pair of Havaianas to wear out to play or to the seashore with mom and dad? There are so many styles and colors to choose from that mom will feel like a kid in a candy store when trying to find just the right pair. Most are priced between $15 and $20 and they will easily last until that little girl grows to the next size shoe. So many sandals are cheaply constructed, but Havaianas are trendy yet made to last. Sizes start with babies and go up through when those little girls will be ready to fit in ladies sandals.
If you are looking for girls sandals, remember that bling is in. Everything sparkling, metallic and neon is all the rage and sure to make a hit with any girl. Girls sandals don't need to be expensive but they sure need to be flashy! Whether you buy a generic brand or one of the trendy designers' styles, make sure that you choose a pair that is bright, bold and colorful. You will find the greatest assortment online and often for reduced prices, especially off season. Many merchants offer bulk discounts when buying more than one pair and some even offer free shipping. Choose the right pair and that little princess will be delighted with her new little girls sandals.
Back to Top