Fitness Flip Flops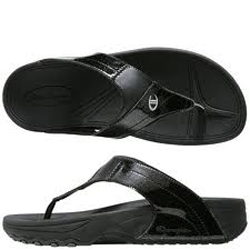 There are almost infinite choices in flip flops, whether for style or comfort, but very few are manufactured with 'fitness' in mind. With the right pair of fitness flip flops you can actually strengthen your leg muscles while absorbing shocks, thereby reducing pressure on the foot. Fitness flip flops should also promote better posture while standing and walking to reduce strain and delay fatigue. With all that in mind, the best company on the market for this type of fitness shoe is FitFlop.
About FitFlop
They carry an extensive line of both men's and ladies' flip flop sandals, each and every pair biomechanically engineered to tighten and tone leg muscles just by walking around. Manufactured in the UK, FitFlops have undergone clinical studies that authenticate the benefits derived from wearing these innovative shoes. Darren James of London South Bank University and Dr. David Cook who is a Biomechanics Lecturer, both substantiate that FitFlops have performed, over a 48 month study, just as they were engineered to do.
Women's Biomechanically Engineered Fitness Flip Flops
Two things that ladies look for in shoes are style and comfort, almost always in that order! However, they also want their legs to be shown to perfection and what better legs to show than legs that are toned and trim? FitFlops has a line of ladies fitness flip flops that not only are in touch with today's trends in fashion, but they help to keep those legs fashionably fit as well. Styles include:
Pietra
Oasis
Electra
WalkStar
WalkStar III
Some styles have accents that add a bit of bling, while others are more subdued. There are a number of colors to choose from, but even though the styles may change, the same biomechanics can be found in each and every pair.
Men's Biomechanically Engineered FitFlops
Men's versions of the biomechanically engineered fitness flip flops are much more limited than those for ladies. In fact, even though they all bear the FitFlops name, only one pair is designed in the traditional flip flops style with the thong band between the big toe and the second toe. This pair is called FitFlop Dass and was engineered to provide a modicum of instability when walking so that those leg muscles are worked while promoting better posture to relieve strain on the lower spine. As with other fitness flip flops fashioned by this revolutionary shoe manufacturer, FitFlops Dass are a perfect blend of style and function.
There really is no reason to sacrifice style for comfort and fitness if you find the right company that keeps all that in mind. Although manufactured in the UK, FitFlops have become a household name around the globe for anyone who is both fashion and fitness conscious. They can be found online in standard sizes based on the United States shoe standard of sizes and are reasonably priced for a shoe of this caliber.