Golf Flip Flops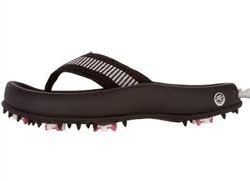 Every golfer knows that their game is only as good as the gear and equipment they have available to them at any given time. Golf is a strategic game that requires you to have the most suitable tools and resources to be victorious. Having the proper footwear on the golf course can give you the comfort needed to focus more on your game. Golf flip flops are unique because they are specifically designed with traction and durability as the main features. Many golf players prefer flip flops over sneakers while playing golf, especially those that do not have access to a golf cart, as walking long distances in conventional golf shoes on a hot day can be extremely uncomfortable. The following information describes the main attributes, popular brands and types, and typical costs of golf flip flops.
The Main Attributes of a Pair of Golf Flip Flops
As mentioned, golf flip flops are designed to grip the golf course with maximum efficiency, and therefore usually have unique traction designs that are unlike those found in traditional flip flops. The straps on a pair of golf flip flops are also wider and consist of soft fabric and flexible neoprene material that does not leave blisters and lasts longer than traditional rubber straps. Some rubber golf flip flops have a single main strap that attaches via Velcro on the façade of the foot, and these are generally known as sport sandals.
Popular Brands and Types of Golf Flip Flops
Some of the more popular brands that distribute golf flip flops include Nike, Adidas, Golf Gators, Dawgs, and Acer. Of all of these brands, Nike perhaps sells the highest volume, as they manufacture and distribute a plethora of sports-oriented footwear and sandals. However, more experienced golfers and those looking for the highest quality available on the market may be more interested in Golf Gator flip flops, which utilize unique and revolutionary traction designs for maximum stability and durability on the golf course. A primary example of how Golf Gator flip flops implement unique traction designs is their men's spackler spiked flip flop sandal, which uses triple spiked triangular devices on the bottom of the flip flop's outer soul to adhere to the turf and prevent sliding during swings.
Typical Costs of Golf Flip Flops
The average cost of a pair of golf flip flops ranges from $25-$100, depending on the model, brand, and retailer. Golf gator is known for providing the most expensive golf flip flops, which are on the higher end of the spectrum at about $50-$100 in cost. Nonetheless, golf flip flops are an economic alternative to golf sneakers, as they typically cost less and are just as durable and long-lasting. This means that a golfer can have a small collection of golf flip flops for the same amount of money that could be used to purchase a single pair of professional golf sneakers. Golf flip flops can also be used for purposes other than playing golf, as they can easily match a wide variety of outfits.