Walking Flip Flops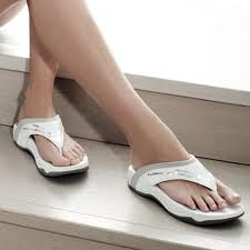 Flip flops are easily the most convenient and casual form of footwear available, with simplified slide-on functionality and a plethora of brands and styles being sold, it is easy to see why many people own dozens of flip flops. Unfortunately, many flip flops can become extremely uncomfortable after meeting one for more than a couple of hours, or anytime you engage in activities that require a lot of walking, jogging, or running. This is especially true for cheaply made thong sandals, which often have rubber straps that are notorious for irritating the area between the toes and easily breaking during long walks. Walking flip flops, also known as crosstraining flip flops, are specifically designed to be durable, flexible, and lightweight, in order to withstand the wear and tear of daily walking. The following information describes the main attributes, popular brands, and various types of walking flip flops available on the market today.
The Main Attributes of a Pair of Walking Flip Flops
Unlike traditional beach flip flops and cheap casual sandals, a pair of walking flip flops will typically have a lot of foam composite cushion within the insoles, as well as a larger number of straps or a single large outsole that comfortably secures the foot for enhanced stability and durability while walking. A pair of walking flip flops usually will not contain materials such as patent leather, bejeweled decorations, or cheap plastics, all of which can easily irritate the foot and decrease the overall flexibility of the sandals. Walking flip flops may have Velcro on the straps, which is a stronger adhesive material that can be easily adjusted and maneuvered for personalized comfort.
How to Find a Pair of Walking Flip Flops
Some companies specialize in creating sporting flip flops that are perfect for walking and any other rigorous activity. Thus, when shopping for a pair of walking flip flops, it is best to deal with popular brands like Rider, Oakley, Payless, Reef, Sanuk, Quiksilver, and Rainbow among others. The largest selection of walking flip flops can be found online, however many people prefer to shop locally, as this allows them to try on the flip flops before purchasing them. Nonetheless, if you're confident that you know your sandal size and are comfortable with a specific brand, then shopping online may be the best option, particularly for those that live in rural areas without access to robust shopping malls.
Reasons to Purchase Walking Flip Flops
Walking flip flops are are the ideal footwear for individuals that frequently visit the beach, surfers, rock climbers, volleyball players, and anyone else that needs convenient footwear that can withstand the rigors of daily walking. Although other flip flops may be more stylish, after a few weeks of walking in them every day the straps will begin to detach from the insoles, and the cushioning will begin to wear down. Walking flip flops are specifically designed to last for long periods of time, and therefore usually more expensive than conventional casual flip flops, yet many will tell you that their value is certainly worth the cost.