Purple Flip Flops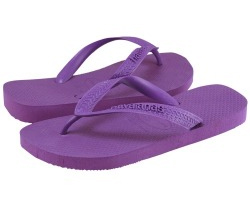 Flip flops have gotten their invention from the Japanese 'zori' sandals. After World War II, English servicemen bought these 'Jandals' to the Wet as souvenirs. They became very popular in 1960 as beach wear and platform flip flops for women. Men used to wear these in the laundry area or in some blue collar jobs besides beach activities like throwball and surfing.
Why Flip Flops?
With the passage of time, things have changed and flip flops have been led out of the beach into homes and then into formal functions like weddings. Increasingly, the American wedding scene is changing its environs from Church to beach and garden weddings, and purple flip flops can make you a darling of everyone if worn in fancy designs. Not only this, purple flip flops are worn in homes, on streets as 'street fashion', BBQ parties in the garden and some girls have gone to the extent of wearing purple flip flops to their proms. On Halloween, Independence Day, and Christmas, you can choose to be different with purple flip flops by stamping them with stamps, characters, and embellishments that go with the event.
Personalizing Your Purple Flip Flops
If you really want to 'own' your purple flip flops or show your care and love to someone close, you can decorate purple flips flops yourself with the following tips.
Get a purple sole (same color or dyed) with rubber or plastic straps, hot glue gun, stamps, iron transfer designs and embellishments as you like.
With a permanent marker, you can draw designs on the sides and tops as well as the toe and ankle strap for your little kids. Fuzzy animal characters, flowers, and stars are the best choice. The look cannot be replicated if you are a good artist.
You can iron on transfers to the straps or footbed. Using the same technique as in T-shirts, place iron on the surface with a towel in between (to prevent surface damage) and transfer the design easily.
For gifting to your girl friend or mom, you can use rhinestones, beads, or plastic jewels to decorate the purple flip flops. Choose the favorites of your friend's and use a hot glue gun to decorate them in style. Just don't overdo it.
For your mom or an elderly neighbor, you can go for buttons or elegant silk flowers in subtle colors which can be glued to make them look sober yet stylish.
If you like details when making for yourself, you can go for thin cords around the edges of flip flops. Large fishing needle can be used to sew the cord easily in 10-15 minutes. Wear a protective glove, pass the cording through the needle's eye, and then stitch around the edges.
Fabric flowers or foamic sheets cut into flowers added on top of the strap-crossing look gives a bright, summer look and easily makes your purple flip flops stand out from the rest.
Purple flip flops can be bought from brands Chaco, Flojos, Vans, Havaianas, Teva etc. You will have plenty of designs with contrasting colors (in addition to the purple base).
Back to Top