Yellow Flip Flops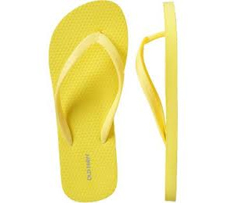 Flip flops are very often associated with warm, sunny summer days and nothing is more suitable than a comfy pair of yellow flip flops to wear with those lovely summer dresses. There are several shoe manufacturers that make fashionable flip flops that can be worn with literally any style of clothing and in almost any setting. Prices can vary greatly depending on the designer and quality of the shoe. If you are looking for yellow flip flops that are fashionable enough to wear to the mall or your favorite café, yet comfortable enough for a walk on the beach, you might enjoy one of the following styles.
OluKai 'Amo-W' Flip Flop
This particular pair of yellow flip flops is designed with a narrow T-strap and is water friendly. The footbed is gently curved to mold to the shape of your foot to provide support and comfort.. The upper is made from synthetic fabric and the lining is EVA. The Amo-W has a sole that has just the right amount of traction to provide safety on a great number of surfaces. Although the yellow gold summer OluKai flip flops are among the most popular, this style also comes in Berry Black, Black, New Pool/Black, Paradise/Black, Pewter and Plumeria/Black and retails for $59.95.
Aerosoles Branchlet Yellow Patent
Branchlet yellow flip flops by Aerosoles is the perfect shoe to wear with that summer frock. Made with faux leather uppers with a lovely flower detail where the T-strap crosses, just above the thong, you will walk in comfort with the EVA suede cushioned footbed. The finish is a diamond patter that is flexible for extra bounce and grip and the thong is wrapped to protect against blistering that delicate area of the foot. This particular style retails for $48.95 and is also available in Black Patent, Bone Patent, Brown Patent, Orange Patent, Mid Green Patent, Purple and Red Patent. While many yellow flip flops are flats, the Branchlet has a 3/4 inch heel.
Ed Hardy Women's Beach Comber Yellow Flip Flops
Today's younger crowd loves anything Ed Hardy with that signature skull logo. When looking for a trendy pair of yellow flip flops, the Sandal Beach Comber is one of the more popular styles in the Ed Hardy Collection. You will never need to worry about comfort being sacrificed for style but you will see an assortment of the famous Ed Hardy Tattoo graphics on the footbed. They are lightweight and casual with a brushed metal tiger button and of course the Ed Hardy logo is embossed. The Beach Comber yellow flip flops retail for $45.00 which is a great price for a designer sandal of this quality.
No wardrobe is complete without yellow flip flops to complete a warm summer outfit. While many designers have an assortment of flip flop sandals that are also fashionable, these are some of the trendiest and best selling styles on the market. Reasonably priced, you won't find a better example of a trendy casual flip flop in yellow.