White Flip Flops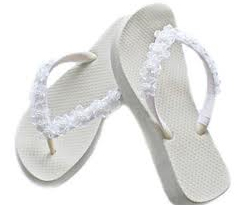 Both men and women can wear white flip flops, but most often you will find them styled for women. There are quite a few lovely pairs that can actually even be worn with evening attire although you can also find a number of casual white flip flops that are more suitable for a day at the beach. To get an idea of just what is available, consider some of the following fashions.
High End Designer Thongs by Chanel
One pair of white flip flops that stands out among others designed by Chanel is a lovely calfskin thong with the signature Chanel logo on the front of the T-strap. While it is possible to find them discounted to just above $100, most often Chanel white flip flops retail for considerably more. Remember, you are also paying for the name as well as the quality of the product.
Men's Oakley Nuner White/Navy Flip Flops
For the athletic man who is looking for a classy warm weather flip flop, the Oakley Nuner White/Navy pair is ideal. Retailing at $49.95, this shoe is perfect for pre or post workouts as the insole is crafted from neoprene that has moisture wicking properties. The shoe itself is stylish enough to wear with casual summer attire, but is intended as an athletic flip flop sandal.
Winnie in White by Michael Kors
Another high end fashion pair of white flip flops is Winnie by Michael Kors. This pair normally retails for $98 and is crafted from white metallic leather. The T-strap (thong strap) has Michael Kors' signature logo on the metal plate and the thong is made with a wooden heel. Simple yet chic, this pair of white flip flops can be easily worn with a linen dress or pants suit to any function, dressy or casual.
Old Navy White Flip Flops
Now that you have an idea of what a designer shoe would be, consider an everyday pair that you can pick up for less than $5. Old Navy brand flip flops retail for approximately $3.50 online and although they are not high end fashion designs, they can be worn comfortably with beach or casual attire. As far as inexpensive white flip flops go, you won't find a pair for less than a pair of Old Navy flip flop sandals.
One of the greatest aspects of living in this day and age is that all the old fashion taboos have been thrown by the wayside. It is no longer a fashion faux pas to wear black in the summer and white in the winter. The only thing that may keep you from wearing a fashionable pair of white flip flops in the winter is a little bit of snow on the ground, but that is easily remedied by a quick trip to South Beach. (Well, we can dream, can't we?) As a matter of fact, now would be the ideal time to buy a trendy white pair simply because of all the money you could save with an off-season item like flip flops!
Back to Top