Rainbows Flip Flops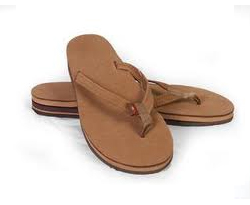 Anyone can tell you that Rainbows flip flops are among the trendiest sandals to hit the market, but if you truly want to see what a company has to offer (besides great shoes!) you would want to look at their rating with the Better Business Bureau (BBB). Rainbows flip flops, a label of the parent company Islander's, has an A+ rating which means that customers must be extremely satisfied with both the product and the company's customer service. Anything less than an A should be questioned, but an A+ is a rare breed.
A Rainbow in the Pacific
During the late 1960's and early 1970's a new oceanside pass-time took hold and became all the rage. Surfers and 'would-be surfers' from around the world came to ride the waves off the coast of California. That period not only saw the birth of a surf counterculture which gave rise to music from greats like the Beachboys and Jan & Dean, but clothing changed as well to reflect the tide (no pun intended). Large floral print Hawaiian button-up shirts and flip flops became all the rage and this is when Rainbow launched their line of stylish flip flop sandals. One of the company's first ambassadors was world class surfer, Gerry Lopez, who with his fame and advocacy of Rainbows flip flops, the brand soon became a global success.
A Far-Reaching Vision
One of the things that inspired Rainbows flip flops was the fact that the company's founder, Jay (Sparky) Longley, Jr. soon grew tired of seeing cheap broken flip flops littering his beloved Pacific beaches. He resolved to design a flip flop sandal that would be comfortable, durable and of course, the height of fashion. This gave rise to the birth of Rainbows flip flops which are still among the best selling casual beachside shoes around the globe. The first shoes manufactured were soft sponge-rubber flip flops that quickly gained a reputation for living up to their promise. From there the line continued to grow and now there isn't a surfer on earth who hasn't heard of Rainbow or hasn't owned a pair or two at one point.
More Than a Flip Flop
Actually, Rainbows flip flops are more than you would expect from a sandal that has traditionally been made from rubber. There are also a variety of leather thong flip flops that are just as comfortable as their rubber counterparts but can be worn with a greater variety of styles. Trendy Rainbows flip flops in leather are available for men, women and children along with the conventional sponge-rubber sandals that the company is famous for. From four layer rubber lowers with leather straps to double stack flip flops with leather straps, there are almost too many styles and colors to choose from, if that is even possible! You will never wont for a pair of flip flops once you have seen what Rainbow has to offer.
Rainbows flip flops are sold in retail stores around the world, but can also be found online. In fact, while stores may carry a few selections, you will get to view the entire collection online as well as get a hint of the upcoming season long before they hit retail shelves. Not only will you get a durable and fashionable pair of casual sandals, you will be buying from a company that prides itself on customer service and an A+ BBB rating. That's a combination that just can't be beat!