Flip Flops with Bling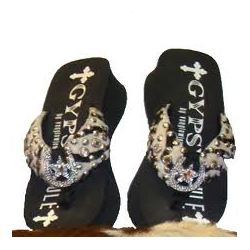 Funky flip flops, elegant flip flops, and now even jeweled flip flops are worn with a passion! It is the diversity of designs, the colorful straps, and the jeweled flip flop fabric that makes this footwear a favorite amongst women and men alike. Flip flops with bling means flip flops with decorations or various beads/artificial jewels put on them for a glittering and sophisticated look.
Asian Flip Flops
Initially flip flops were introduced as simple sandals with rubber straps that were of a plain color, however, now flip flops have an entirely new dimension. Inspired from Asian designs of flip flops, American companies too have made flip flops with blings that would get everyone going "wow" on your sandals! Indian shoe makers often make flip flops with amazing and intricate designs, depicting an artistic handcraft work. The flip flops have Swarovski crystals or colorful, shimmering embroidery work done on them. This makes flip flops with blings a little costlier than regular flip flops.
Cost of Flip Flops
Flip flops with blings have jewelry such as Mia Rhinestoens, Black Tessa Rhine stone and other beautiful blings on the flips. The price range of flip flops with blings could reach up to USD $100.00 and $400.00, depending upon the design and the bling that is placed on the flip flop. Usually flip flops with blings are rubber high heels that are meant for formal wears. However, you have to be very careful wearing these flip flops, because they have no ankle support and have rubber high heels of up to 2 inches. You may face an ankle sprain if you don't be careful with this. Instead of wearing these heeled flips, you can also get the same designs for something that is flat and comfortable.
Flip Flop Care
Flip flops with blings are not your regular flips, so you must take care of it, and place it neatly with straps facing up, to make sure the bling part is safe from any damaging factor. Remember that the blings are placed very carefully, with exquisite handcraft work done on them, so do make sure you treat them well. Also do not wear flip flops with blings in a dusty or sandy environment. Most of all avoid wearing it on the beach, even if it's a beach party. You wouldn't want the blings on it to lose its sparkle and its grandeur.
Where to Buy Flip Flops
Though you can shop for flip flops with blings at your regular shoe store, you can also get it from online shops that specialize in making and designing flip flops with blings. Other than that, you can also choose your own bling design and colored rubber flips to suit your taste. With browsing on the various online sites, you will find a range of flip flops available in the market. If purchasing online is not something you desire, you can also send the sample to a shoe maker and purchase blings separately and have a pair of flip flops designed just the way you want it. Make sure you understand the cost of these flip flops, before you proceed to buy them either online or from a shoe shop.