Flip Flops with Bottle Opener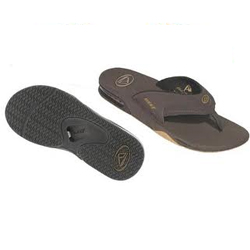 Flip flops come in all sorts and sizes. If you can imagine it, there is probable a sandal there that has the features you just imagined. Besides the shapes and features like decorations, logos and all kinds of accessories, flip flops also come with all kinds of gadgets built in, the most famous one being flip flops with a bottle opener incorporated
The reef flip flops with bottle opener
The name of the manufacturer offering the flip flops with bottle opener variety is Reef, this Argentinean company, invented the concept, and most likely this is one of the few sandals that come with gadgets that are actually successful and there is good reason for this as well
The idea of incorporating a bottle opener might seem farfetched at first glance, it actually comes in handy quite often on places like beaches, around camp fires and since the most used purpose for flip flops are recreational, it really is no surprise that flip flops with bottle opener are quite the convenient asset to this type of events, because more often than not they involve drinking, and who hasn't been in a situation that there was plenty of beers around, yet no bottle opener in sight? Needless to say that the Reef flip flops with bottle opener remedy that situation quite well.
In fact many users of this type of gadget, report to find it to be an invaluable asset to their foot wear.
Other flip flop gadgets
Over the years flip flops have been equipped with all kinds of gadgets and gizmos, from cameras to led lights, and other attributes, yet none of them caught on the way the Reef flip flops with bottle opener have, which shows that Reef is a manufacturer with an excellent feel for its customers. They know what they want and they give it to them at very affordable prices.
In short gadgets in flip flops may sound cool but in reality it more often results in disaster then success. Reef flip flops with bottle opener are the exception and not the rule. If anything it goes to proof that Reef knows its customers, which is something other manufacturers of flip flops with built in gadgets can learn a thing or two from, and should be taking notes.
However besides being useful, flip flops with bottle opener are the latest craze and even with their usefulness it is safe to assume that a large part of their popularity is due t hype, and when the novelty wears off, they will start looking at the footwear instead of the gadget. Lucky for reef they also supplied an exceptionally fine pair of sandals along with the bottle opener, so it is safe to assume we will be hearing more on this subject when the next model and gadget arrives. Whether or not the flip flops with bottle opener where a lucky hit or a display of feeling with their clientele, only time can tell. So far Reef has done a solid job manufacturing the first successful flip flops with a gadget  built in.