Cloth Flip Flops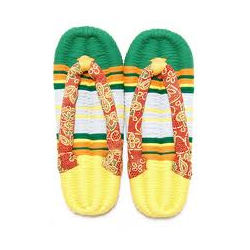 Flip flops are designed and manufactured using a vast array of materials and decorations. Perhaps some of the most unique and comfortable types of flip flops, which are commonly overlooked, are cloth flip flops. Flip flops made of fabric are ideal for casual and outdoor wear alike, as they are durable, lightweight, stylish, and most importantly, comfortable. Many cloth flip flops are also specifically designed to match any outfit or color, as they are typically produced in uniform colors such as black, gray, beige, and white. If you are searching for the epitome of comfort and style in an affordable pair of flip flops, you may want to consider the following information about the various types, styles, and brands of popular cloth flip flops.
Popular Brands That Sell Cloth Flip Flops
Popular brands that are known for selling cloth flip flops include Ocean Minded, Clarks of England, Teva, Fox Racing, Sketchers, Rider, Payless, To Boot, Rocket Dog, Oakley, American Eagle, Sanuk, and Flojos. Each of these brands offers a wide selection of footwear, and many of them have been around for more than several decades.  Of all of the aforementioned brands, Sketchers, Oakley, and Payless are perhaps the most popular, and can be found in nearly every major department store in the country. OEM manufacturers and third-party flip flop retailers also provide wholesale prices on brandable cloth flip flops when they are purchased in bulk.
Advantages of Cloth Flip Flops
Cloth flip flops are an ideal fashion choice for men, women, and children of all ages. Aside from being lightweight, durable, comfortable, and stylish, cloth flip flops are also better for the environment. The materials used to make cloth flip flops (fabrics) generally consume less planetary resources and cause less pollution during the production and manufacturing process. Cloth flip flops are also more biodegradable than those that are made of patent leather, rubber, and cheaply made plastics. Since cloth flip flops last longer, you can go years without having to purchase another pair or throw your current pair away, making them an economical and environmentally safe choice for anyone. The retail cost of a single pair of cloth flip flops usually ranges from $10-$170, depending on the brand, materials used, and retailer.
Where to Buy a Pair of Cloth Flip Flops
Fortunately, most major department stores and online clothing retailers have a small to medium-size selection of cloth flip flops to choose from. If you're looking for the most extensive selection the Internet would be the most ideal marketplace. However, if you're looking for quick access to a more affordable selection that you can try on before buying, then a local mall or department store would be the suitable venue. It is also possible to find great deals on used or refurbished cloth flip flops on third-party auction sites such as eBay.com and Amazon.com, where individual retailers and clothing owners sell their items at a fraction of retail cost. It is important to keep in mind, however, that the cost of shipping and handling may negate some of the savings found in all online deals that may appear to be too good to be true.