Jelly Flip Flops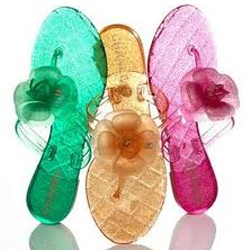 Whenever you think of summer, you are reminded of the warm weather and bikinis that come with a very comfy, trendy and fashionable pair of flip flops. Flip flops are a staple for any summer wear for men, women and kids alike. They are not only fashionable, but also offer your feet ventilation in hot summers when ordinary shoes will make your feet uncomfortable. If you want a flip flop that is comfortable and will make a fashion statement, then jelly flip flops are just what you need.
Branded Jelly Flip Flops
When fashion is concern, it's not easy to make the right choice. You may want only a cheap pair of sandals for the beach and don't want to stretch your budget too much - that is one of the advantages of Jelly Flip Flops, that you can be trendy at a very cheap price. Here are some of the best brand of jelly flip flops we found for you:
Havaianas Their version of Jelly Flip Flops is made from the finest and softest rubber, and with a branded upper, shock absorbing midsole and long-lasting outsole, you will surely stay comfy wearing it all day long either in a mall or on the beach. Havaiana's version is called Women's Logo jelly flip flop.
Burberry Burberry jelly sandals are just perfect for your wardrobe for casual days at the beach. They have an open round top with the embossed Burberry logo at the base. Burberry jelly sandals also come in black.
BCB Generation Their version of jelly flip flops is called Mincay jelly sandals. It comes with a rhinestone heart décor that is simply lovely and suited well for summer days.
Tory Burch If you are looking for classy but casual jelly flip flops, the Thora Navy Jelly created by Tory Burch is what you need.  Its elegant style is not only perfect for the beach but also for casual days.
Melissa Shoes Melissa jelly flip flops are eco-friendly - all styles are made out of flexible MELFLEX plastic that is hypo-allergenic and recyclable.
Crocs They are almost synonymous with flip flops, and comfort. Their website has one of the largest collections of flip flops and jelly flip flops you could find online.
Designer's Jelly Flip Flop
It may find hard to believe, but jelly flip flops are also perfect for a wedding occasion. No, we are not talking about the ceremony itself! But after the reception, you would surely want to change into a comfortable pair of shoes. With the right kind of colored jelly flip flops on your feet, you will be comfortable as well as stylish.
Nowadays, a lot of designers are working to give woman jelly flip flops with just the kind of style they want. Some designers are even designing rhinestone jelly flip flops with Swarovski crystals that go just great with a dress. With price ranging from tens of dollars to hundreds of dollars, whatever be your budget, comfort and style are not far from you.