Flip Flops Sandals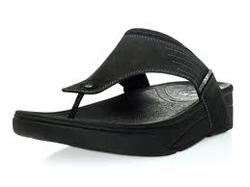 When shopping for a pair of flip flops sandals, the thing you should probably be aware of is that most designers tend to differentiate between flip flops and sandals. Flip flops are generally rubber shoes, even high end designer flip flops, while flip flops sandals most often have some other fabric involved such as leather, ribbon, hemp or even denim. Both make that slapping sound against the pavement as you walk (hence the name flip flops) but flip flop sandals are trendier and often more expensive as a result.
What Makes a Flip Flop a Flip Flop?
Besides the slapping sound they make when walking, a flip flop is identified by that leather (or rubber) thong between the big toe and the toe adjacent to it. Technically speaking, a flip flop is a backless flat sandal type of shoe that simply slips on the foot. In years gone by they were known as 'thongs' but that name isn't really politically correct to speak in polite company any more. It has taken on whole new levels of meaning within the past few decades! Quite simply then, a pair of flip flops, or flip flops sandals, are a pair of soles that are kept on the feet by a T-strap that connects to the foot between the first two toes.
High End Flip Flops Sandals
Most of the high end shoe designers do carry a line of flip flops sandals which are usually priced according to the name of the designer and the materials used in manufacturing them. For instance, the Heather braided thong sandals by Ralph Lauren retail for around $89 and are considered a high end designer pair of flip flops sandals. This is one of those 'exceptions' to the rule as they have a straps around the back of the shoe, but they also have the traditional flip flops thong between the toes that make them a pair of flip flops sandals.
Casual Wear Flip Flops Sandals
Almost every big name in flip flops manufacturers does craft at least one style that could be categorized as flip flops sandals. The entire sole can be fashioned with leather or the outsole could be rubber with the insole lined with calfskin and the upper would almost certainly be made from leather. This type of flip flops would probably cost around $40 to $50 in most cases, but can cost significantly more based on the name of the designer. Casual wear flip flops sandals are usually free from embellishments other than the designer's logo that would probably be located on the straps or on the footbed.
If you need a pair of casual shoes for those warm summer months but something a little classier than traditional rubber flip flops, then flip flops sandals would most likely be what you are looking for. Just because they are classified as flip flops doesn't mean that they can't be worn for more formal occasions. In fact, it is this one attribute that sets them apart from beachwear flip flops. They tend to be more stylish and versatile.