Sliper Flip Flops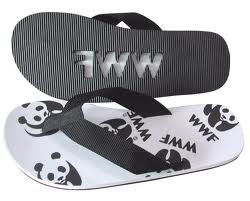 Everyone needs a good pair of slippers, sandals, or flip flops for around the house casual wear. Many people don't realize that these are actually three different types of footwear, although they are incredibly similar. Slippers are distinguishable from sandals and flip flops because they usually have a soft inner sole that is lined with fabric or furry material, rather than leather or rubber. Conventional sandals usually have a single widened covering or strap that is attached over the top of the foot, making it easy for you to slide them on and off. Traditional flip flops, also commonly referred to as thong sandals, are distinguishable because they typically have a single strap that runs between the large and middle toes, and most of them are comprised of rubber or foam composite material. It important to note that many companies and individuals categorize slippers and flip flops as types of sandals. So, what exactly are slipper flip flops?
What Are Slipper Flip Flops
The primary difference between conventional slippers and flip flops is that slippers are intended for indoor use and flip flops are intended for outdoor use. With the advent of slipper flip flops, you can enjoy an indoor/outdoor pair of house shoes that are both comfortable and versatile. In essence, slipper flip flops are simply a pair of flip flops that are covered with soft and comfortable material, such as sheepskin, wool, hemp, and even yak. Since all of these materials are usually more expensive than the cheaply made rubber and plastic used to manufacture traditional flip flops, it is not surprising that slipper flip flops are usually slightly more expensive. However, aside from being more comfortable, these natural materials used to cover slipper flip flops are biodegradable and are therefore much better for the environment.
Popular Brands and Types of Slipper Flip Flops
Some of the more popular brands that are known for selling slipper flip flops are Acorn, UGG, Shepherd 519, Nike, Montrail, Ecco, Athleta, and Patricia Moss. There are also nonbranded team-themed slipper flip flops that are designed with the team colors and logos of various sports teams such as the Florida Gators or Texas Longhorns, for example. It is important to note that there are two types of slipper flip flops - those that have the design configuration of a conventional pair of flip flops, but are covered in soft slipper material, and those that have the design configuration of slippers, with the outer soles and traction of flip flops. The first type of slipper flip flops mentioned above are by far the most popular, and in are essentially the authentic and original version of this unique footwear.
The Average Cost of Slipper Flip Flops
The average cost of a pair of slipper flip flops typically ranges from $20-$100, depending primarily on the brand, retailer, and model chosen. Team-themed nonbranded slipper flip flops are usually less expensive, ranging from $20-$30 on average, while all natural slipper flip flops with durable EVA rubber outer soles and sheepskin insoles may cost as much as $70-$80. Fortunately, the cost of shipping and handling is usually nominal considering the fact that each pair of flip flops weighs only a few ounces.