High Flip Flops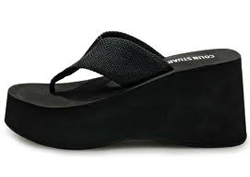 Flip flops find their origin in woven sandals of Japan and were popularized in 1930's as beach wear. Since then flip flops have seen their way from the beach to the streets and to the home as well. Not only this, there is no restriction of age and gender to adorn your feet with these very 'wearable' and comfy footwear. Added flip flops go one step further into social gatherings from beach nights to daytime functions to even weddings. High flip flops had their advent in the 1960's, but are still on the scene in some way for petite women to look longer.
Where to find them?
High flip flops come in the same color splashes and glaring designs which you used to have fun wearing as kids to the pool party. The rubber flip flops let you capture those memories courtesy of Havaianas. The Reef flip flops are inspired by surfing and are known globally for innovative designs. Vineayard Vines can be worn by the 'grand people' in your house or even you if you want to relish in a classic, antique theme. For jazzy people, high flip flops with blings just add more jingle to their attire. O'Neill and Oakley are brands that let you have a one-stop shopping spree to quench your foot fetish.
A Woman's Desire
High flip flops are usually worn by ladies who want to add height with grace to their personality without making their personality look foolish. For other girls, it gives the advantage and feel of a runway model walking tall. They give the benefit and comfort of flip flop and the look of high heels. Rhinestone high flip flops are the favorite of women and teenagers. Rhinestones and jewelry decorate your footwear and give a luxurious appeal. The rhinestones can be real or plastic so you can get them in your budget as you want. Also, you can wear them to high-class parties as high fashion footwear. The standard, desires and requirements of any lifestyle can be fulfilled with high flip flops according to the rhinestone type.
A Bride's Desire
Wedding high flip flops are now being designed to replace traditional high heels. The wedding culture and traditions are changing throughout the US with outdoor, beach and garden weddings taking over the formal function settings. Brides going for a summer wedding choose a high skirt and adorn sandals or high flip flops. For this reason, designers are creating delicate and beautiful high flip flops to suit the elegant bride.
Something more….
The high flip flops let you welcome your gals' parties in the hotter months. They have a cork –like insole and colored straps that match perfectly with your favorite lawn outfit. The flip flops don't limit you for the size option which goes from 5 to 10. The smooth strap makes sure you can walk long enough on the beach comfortably or even dance without getting a foot ache. You can find high flip flops in discount stores, corner stores, and even small time designer shops! It's time to act quickly before the girls, next door, grab the one you had your eyes on.