Gladiator Sandals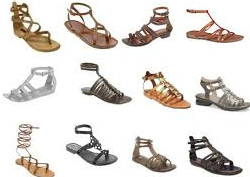 Still going strong is the urban warrior look and nothing is expected to top it for spring and summer fashions 2011. However, no urban outfit is complete without one or more pair of gladiator sandals and now is the time to buy them! Whether you are looking forward to a day at the beach or a trendy pair for a night on the town, gladiator sandals in traditional thong (flip flops) motif are the way to go.
Gem N Toast Flat Gladiator Sandals
The Kenneth Cole Reaction line of sandals has done it once again with these traditional thong gladiator sandals with cushioned footbeds and all leather uppers and linings. Even the stitching is leather and if you want to round out that urban warrior outfit, the all-over studs are just the thing. Not only are they comfortable, but the perfect complement for urban appeal. Moderately listed at $75, you can probably find a great deal on them this time of year.
Steve Madden's 'Steven Aviva Sandal'
Any style by Steve Madden is known for its 'streetwise' appeal. No self respecting urban warrior would go without at least one pair of Steve's gladiator sandals. The Steven Aviva Sandal most resembles traditional leather flip flops except for that telltale ankle strap with adjustable buckles and the geometric grommets. This pair of shoes blends a thousand year old Roman style with today's ultra modern warrior appeal. The MSRP is $119, but you are sure to find them anywhere from 25% to 50% off if you know where to look!
The Melissa Rubber Gladiator Sandals
One of the most appealing futuristic gladiator flip flops is the Melissa Rubber Gladiator Shoe. While each and every pair of Melissa shoes is on the cutting edge of fashion, when it comes to gladiator sandals this pair is hot! Simple in design, they are truly innovative because of that simplicity. Listed at $55, they are truly worth it, if just for the style alone! If you can imagine a gladiator from the Roman Empire being sent forth into the 22nd Century, you can envision Melissa Rubber Gladiator Sandals.
Groove's Jyran T-Strap Sandals
Another term you might hear from time to time when referring to flip flops is "t-strap." Groove's Jyran T-Strap Sandals are both women's gladiator sandals and flip flops rolled into one. Every woman will feel like Cleopatra in these flashy sandals with mirrored accents reminiscent of that sultry beauty of days gone by. They are reasonably priced at $50 in season, but at this time of year you will probably find them discounted online.
If you haven't done so already, check out the fashions set for Spring and Summer 2011. There is a new twist to the urban warrior look, making it chic and bold at the same time. The shoes you will see rounding out the look are more often than not variations of gladiator sandals with an updated look. This time of year they are easy to find, but if you wait much longer many styles will be out of stock.