Wedge Flip Flops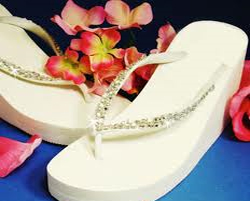 Originally flip flops were a "V" shaped type of sandal, suitable for use in and around the house. Other use for this type of foot wear was harmful for the feet and could lead to foot pain and in severe cases deformities of the feet due to placing a strain on the toes for a prolonged period of time in order to keep a grip on the sandals. Over time this changed and the result came in two different versions: The heeled flip flops and the wedge flip flops.
A type of sandal for women
Where the heeled flip flops were typically geared towards both sexes, men and women alike, wedge flip flops are typically geared towards women which resulted in wedge flip flops with all kinds of decorations, colors, shapes and sizes.
Wedge flip flops are an excellent choice for the woman who wants to walk comfortably while gaining an extra few inches in height.  This particular type of sandal typically goes well with any type of outfit and makes for a trendy addition to any outfit. Therefore this type of foot wear is suitable for just about any occasion, casual and during official functions. Thanks to this new shape, they are suitable for almost all purposes, and the risks of injuring the feet is eliminated thanks to the wedge, which provides a better and more comfortable posture.
Well known brands for wedge flip flops
The brand that is almost synonymous with wedge flip flops is Havaianas. This Brazilian company practically reinvented the wedge flip flops and put them on the fashion map once again. With years of experience under their belt in producing this type of foot wear it is safe to say that their flip flops are among the best in the world. Trendy design meets comfortable wearing abilities, and thanks to the wedge shape wearing flip flops for all intents and purposes is actually healthy and allows the feet to breathe. Havaianas flip flops are among the best of the best, and are great to wear. They are so comfortable, one would not think it was a pair of flip flops at all. 
Today the possibilities for wedge flip flops are endless, and there is a suitable pair of them for any occasion. They are available in all colors, different heights and come with all kind of decorations, providing a pair of flip flops for everyone's taste. Obviously they are still exclusively geared towards woman and girls, while males tend to go for heeled flip flops, which are designed for both sexes.
Ever since the sixties flip flops have gained in popularity and are regarded as an inexpensive type of fashionable footwear, but were still mostly used in casual situations. This changed over time thanks to the efforts of companies like Havaianas. This company put wedge flip flops back on the fashion scene with a vengeance, and judging by the popularity of the foot wear, it looks like it will remain that way for a long time to come.