Clarks Flip Flops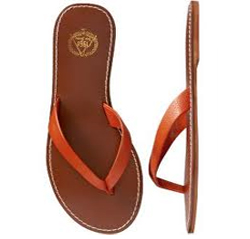 Flip flops have served as standard beachwear since long. They can be traced back to the 60s when they were inspired from Japanese and Mexican designs by some famous brands. Flip flops are now not just worn by beach goers but women, kids and even babies. Also there needs to be no particular setting to wear flip flops. They are as easy to be worn at home as they are trendy to worn in parties. Surprisingly people, even women, are wearing flip flops to the beach, proms and their own wedding as jeweled or high flip flops.
Clarks Sandals
Clarks England was the pioneer of Clarks Shoes that are now known worldwide for their comfort in contemporary styles. Clarks flip flops and sandals for women present a complete range of comfortable footwear that fit any size and suit any personality. You are free to choose Clarks flip flops flats or total evening wear sandals with heels on a night out with other women. Clark footwear is now offering open and stylish toe sandglass. The main collection includes:
'Graffiti Tag' Mary Jane flats with elastic strap and round toe design.
'Margot' trendy Clark sandals are casual summer thongs having 1" heels.
Clarks Artisan compilation: it poses a funky and sporty look with a single strap and stylish big buckles. The insole is suede lined and fully padded inner sole. It is designed for long walks.
The Navan sandals that come with a back sling, cross straps and 3" heels. Perfect to go with skirts and dresses.
Clark Flip Flops
They have become a favorite choice in comfortable and stylish footwear and here are some of its individual flip flops and collections to prove that:
Spa Thong: The slim thong exposes your feet beautifully. With leather upper and an EPA sole you will have a wide variety of 18 colors to choose from. You can go to the beach or stroll outside in your sundress wearing these Clarks flip flops.
Posy flower: This is the ultimate choice for girly Clarks flip flops. The 5 color combinations include the powder blue with blue, black on silver and red on red. The leather upper is designed like a flower cut out. Leather lining surrounds your foot for keeping it dry and cool.
Casual 'firework' Clarks flip flops: They have a sock lining with an upper of soft suede making them very comfortable. They come in basil green, brown, navy, sand and black.
'New castle, Thong Sandals: These Clarks flip flops are stylish yet casual to wear. The designing is very unique with cork midsoles, rubber outsoles and sock lining. You can have them in great colors with nubuck versions as well as patent leather ones.
Availability:
Clarks flip flops and sandals are available in malls and online retail websites. When purchasing online you can easily see all the designs and combos which you may not find in one shop in the mall. Also if you want to get your hands on deals and discounts, online purchase may give you that even with free shipment in some cases.