Croc Flip Flop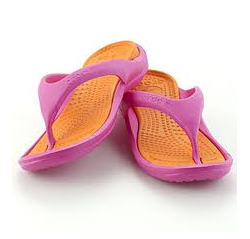 Croc flip flop – The comfort of a Croc in your old Flip Flop
Introduction
Flip Flops, also know as thong sandals or double plungers, are a very popular type of footwear. With the basic structure of the flip flop being of the type of a sole being loosely attached to the foot by a strap between the first and the second toe while the other end of the strap loops around either side of foot, they are a open type of footwear which are used for outdoor and beach wear. Crocs, Inc is predominantly a footwear manufacturer based in America which like any other company is trying to tap the potential of the flip flop market by introducing the Croc flip flop.
Make and Varieties
Croc's basic idea of making footwear is by using a type of foam clog. This is supplied by Foam Creations, which is a Canadian Company. Croc flip flop also employ the same basic material during manufacture. They are built out of the same foam which is a characteristic of Croc, which is Croslite. Croc flip flop are available in a wide range of designs, colors and sizes, and are usually classified by the company under different categories such as the Prepair flip, MODI flip, Little Kid Electro Flip, Melbourne flip and Crocband flip among others.
Advantages
Croc flip flop usually are regarded as having a basic advantage over competitors because of the Croslite material it uses. Other than being characteristically soft, comfortable and lightweight, the material is bacteria and fungal resistant and guarantees not to develop any sort bad smell on the feet. Similar to other flip flops, they are extremely comfortable to wear and are known to reduce muscular activity on the feet by 24.6% making it an ideal wear during the recuperating period after feet injuries or sports activities. Croc flip flop provide these advantages however without sacrificing any of the style a Croc can provide.
Costs
 Croc flip flop differ in their costs in accordance to the type of footwear being selected. With reference to Amazon.com the expected price ranges of various models are:
| | |
| --- | --- |
| Type Of Flip Flop | Cost |
| Prepair Flip | $30 - $40 |
| MODI Flip | $15 - $30 |
| Melbourne Flip | $15 - $40 |
| Crocband Flip | $15 - $30 |
| Little Kid Electro Flip | $5 - $25 |
| ABF Single Flip | $5 - $30 |
| Makino Men's Flip | $30 - $40 |
| Women's Capri Suede Flip | $30 - $40 |
| Women's Captiva Flip | $30 - $35 |
| Women's Wake Flip | $15 - $35 |


The prices are not too high if one is willing to invest in quality footwear with comfort and style.
Availability
As with any other flip flop, Croc flip flop are available in footwear stores. But they may be bought online as well because one may stumble on to deals which may be quite the bargain or may be able to browse between the different varieties of the flip flops as well various colors and sizes of a particular variety. In either case, availability is not much of an issue as due to the popularity of Croc flip flop.