Oneil Flip Flops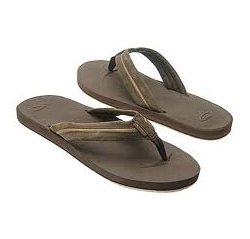 Its summer time and you want to avoid wearing stuffy shoes that make your feet sweat and smell too. So what do you do? You put on a pair of funky, light, comfortable Oneil flip flops. The brand has been famous for its superb flip flop fabrics and trendy shoe designs. Whether you're a man looking for some comfortable flip flops to wear at home, or a woman looking for a colorful pair for a funky party, Oneil flip flops have it all. People seem to have fallen in love with this range of shoes and the company has surely built a strong reputation in the market of comfortable shoes.
Oneil Flip Flops for Women
The best thing with Oneil flip flops is that they are not only comfortable but they are made and designed keeping the latest trends in mind. You will find the colors and flip flop designs to be suiting persons of any age. For aged people, there are: plain, single color, low flip flops. For youngsters and teenagers, there are flip flops such as the Free Bird series, the colorful Paparazi series and the Rock Star series.
If you are concerned about the ankle support issue prevalent with wearing flip flops, you can try the Fergie series that is a chic, black color flip flop with ankle support. You can also get Indian designed flip flops such as the Foxy Series, the Carmentia Series and Mamacita Series.
For elderly women, who prefer something sober, the Proper Series, the Lullaby Series, or the Déjà vu series is a perfect choice. If you desire flip flops that have a high heel, you can get the Tiki Ti series which is quite good enough for a formal party wear. The average price range of an Oneil flip flop is from USD $15 to USD $30. You are also given a variety of colors on some flip flops.
Flip Flops For Men
Men generally prefer dark colors, and Oneil flip flops for men have just the perfect pair of flips for a man of any age. A teen looking for some spunky flips can opt for the Killers series, a dad can get the Phluff Daddy series and anyone wanting a sophisticated flip flop can opt for the Koosh series. There is not much variety of designs or multi colors for men, as a man's simple nature is kept in mind with these Oneil flip flops for men. The price range for men's flip flops is also the same as that of women, with only the exception of the SuperFreak series which costs $49.50, because of its strong and sturdy rubber design.
How To Get Oneil Flip Flops
You can easily purchase Oneil flip flops if you live in America, Europe or Asia Pacific. You can also purchase online from the official Oneil Flip Flop site, where you can browse through the various designs and pick one that you like best. These flip flops can be given as a traveling gift to any friend who happens to be going for a vacation in the Bahamas or Hawaii.