Diamante Flip Flops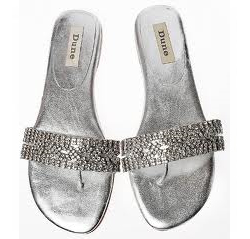 A Diamante, originating from the French phrase meaning "decorated with diamonds", is defined as a small glittering ornament that is typically used to decorate clothing or fashion accessories. Popular examples of Diamante include rhinestones, sequins, and glitter. Most women's flip flops are adorned with a Diamante of some type, especially designer flip flops, which primarily focus on aesthetic appeal and style. According to the history books, Diamante have been used to decorate fashion items for thousands of years, and their influence can be seen in nearly every type of fashion accessory, apparel, and footwear, from handbags to Diamante flip flops. The following information discusses some of the most popular types of Diamante currently used to decorate footwear, as well as the cost of various types, and how to find affordable and quality deals.
Popular Types of Diamante
Perhaps the most popular type of Diamante currently use to create Diamante flip flops are sequins, which are geometrically shaped shiny decorations that are glued or sold onto the straps and outer soles of flip flops for added aesthetic appeal. The second most popular type of Diamante used for Diamante flip flops are rhinestones, which is a type of jewel made from rock crystal, acrylic, or glass and is intended to mimic the appearance of a diamond. Both rhinestones and sequins are relatively cheap and are therefore suitable options for flip flop designers. However, they're not quite as cheap as glitter, which is becoming an increasingly popular Diamante used in children's and women's flip flops.
How Various Types of Diamante Are Used to Decorate Flip Flops
In actuality, "Diamante flip flops" is a very broad term that could really be used to describe just about any women's flip flop that has small bejeweled adornments. When sequins are used as a Diamante they're usually pasted along the outer edge of the flip flop strap that runs along the top of the foot. Slipper flip flops also utilize sequins on the toe area, and are frequently arranged in familiar decorations such as cartoon characters and feminine shapes like hearts, butterflies, and flowers. Rhinestones are used much in the same way as sequins, either pasted on various parts of the outer sole of the flip flop using clear adhesive, or sewn into the fabric material of the flip flop strap. Glitter, on the other hand, can be applied to any part of the flip flop other than the insole, and is commonly combined with the two aforementioned types of Diamante.
Where to Find Diamante Flip Flops
Diamante flip flops can be extremely expensive, despite the fact that many of the materials used to make them are relatively affordable. Some of the most popular brands that sell Diamante flip flops include Chanel, Prada, Christian Dior, Louis Vuitton, and Gucci. Each of these brands are known for offering high-quality designer clothing, fashion accessories, and footwear. It is important to note that a lot of the value of designer Diamante flip flops lies in the brand name itself, and it is possible to create your own pair of Diamante flip flops using materials from a local arts and crafts store, a few basic tools, and a no branded pair of flip flops.