Reef Flip Flops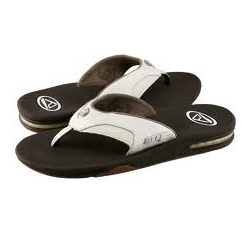 Reef flip flops are an icon for anyone who is devoted to a seaside lifestyle, whether it is surfing, swimming or just walking the shores for a little R & R. While so many of us equate "Reef" with flip flops much like facial tissues have come to be known as Kleenex, most of us don't know the history behind this company that has been on the scene for more than a quarter of a century.
A Little Bit of Reef History
It's always nice to know a little about the people behind the products you frequent, and there is an interesting history behind Reef Flip Flops. Actually it began with two brothers, Fernando and Santiago Aguerre, from Argentina. Because they were both passionate about surfing and had a 'vision' of creating a comfortable, yet high quality sandal, they put their entrepreneurial spirit into action and founded Reef back in 1984. They started out with this vision and only $4,000 in money, but with dedication and hard work, the company grew into what it is today – the number one company of its kind anywhere in the world. Although Reef Flip Flops are often seen as Argentine Footwear, they are actually manufactured right here in the United States.
Innovative Advertising
One of the first things that were recognized in the brothers Aguerre was their innovative sense of marketing. Instead of focusing on pretty girls in bikinis, they created a slightly different 'twist' on the traditional advertising for beachwear and opted to add a little mystique into the mix. Yes, they kept the pretty girl in the bikini, but you never got to see her face. She remained a mystery and soon came to be known as Miss Reef. In fact, these ads were so evocative that many sports and surfing magazines refused to run them in the very beginning. With their vision in place and a good deal of tenacity, the brothers succeeded in getting their ads published. The rest of the story is history as Reef has come to be a household name in flip flop aficionados.
Flip Flops for Any Occasion
Although Reef has a great number of other beach and surf related products, their line of flip flops is quite extensive. There are actually three pages of sandals each in the men's and ladies lines in their online catalogue, 99.9% of which is traditional thong style flip flops, as well as a full page of flip flops for kids. Any style you can imagine is represented in the Reef Flip Flops collection and these shoes are actually reasonably priced for the quality of the product.
Stop by any beach in Southern California and ask anyone you meet what kind of flip flops they prefer and it is almost guaranteed that 9 out of 10 will say, "Why Reef, of course! Is there any other?" You can find Reef sandals in many stores but you will find the biggest selection online where you can view every product they have on the market. Because there are so many to choose from, you just might buy more than you bargained for!