Rip Curl Flip Flops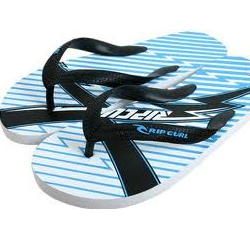 Since its inception in 1969, Australian boardwear manufacturer Rip Curl has become one of the leading footwear suppliers in North America, distributing their high quality apparel and surfing accessories through a vast network of independent retailers around the world. Rip Curl currently has corporate locations in Australia, New Zealand, the United Kingdom, the United States, Europe, Canada, Israel, and Peru. With more than 40 years of experience in creating innovative designs and footwear  technologies, Rip Curl has created the epitome of convenience and comfort in Rip Curl flip flops. The following information describes the main attributes, typical costs, and various types and styles of Rip Curl flip flops currently available on the market.
The Main Attributes of Rip Curl Flip Flops
Rip Curl flip flops are specifically designed with surfers in mind, so the main focuses are comfort, flexibility, durability, and of course style. Materials used to manufacture Rip Curl flip flops typically include suede, leather, neoprene, high-grade rubber, and soft fabrics. The first thing most people notice when trying on a pair of Rip Curl flip flops is how soft and lenient the insoles and the widened toe straps are. All rip curl sandals have contoured EVA foot beds and flexible midsole's (which are often created from recyclable material) that create the perfect walking experience. The frontal straps of a pair of Rip Curl flip flops will usually be adorned with the exquisite, calligraphic Rip Curl logo. The unique traction designs on the rubber out soles provide for superb footing on any surface, whether it be beach sand or a concrete sidewalk.
Types and Styles of Rip Curl Flip Flops
Rip curl is known for producing flip flops in a plethora of colors and design configurations, with colors ranging from the basic primaries to unique multicolored urban designs that combine photographic collages with artistic symbology. Perhaps one of the most unique types of Rip Curl flip flops is the Crew Traction model, which offers a unique traction design that utilizes raised sections of foam composite material within the insoles to prevent slipping and keep feet securely stabilized in the same position within the sandal. Another more simplified line of Rip Curl flip flops is the E3 collection, which combines simplicity with affordability for individuals that do not need an extremely fancy pair of flip flops.
Typical Cost of Rip Curl Flip Flops
The average cost of a pair of Rip Curl flip flops ranges from $15-$50, depending on the model type, retailer, and whether or not shipping and handling is charged. The cheapest pair of Rip Curl flip flops currently available on the market are the Rip Curl Men's Chuns, which retail for only about $10. An example of the more expensive models available include the aforementioned Crew Traction line, which sells for about $35 per pair. Fortunately, even if you decide to order a pair of Rip Curl flip flops online from their official catalog, being that the product is extremely light weight, shipping and handling costs are usually nominal.