Rider Flip Flops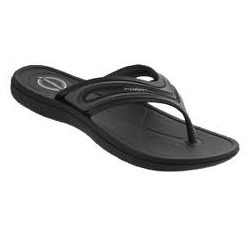 Rider is a reputable brand that began specializing in sporting footwear more than two decades ago, in 1986. Since that time, the brand has released a plethora of additional footwear and clothing accessory lines that are perfect for casual, sporting, and formal wear. Although Rider continues to produce sporting footwear, Rider flip flops have gained a lot of popularity in the past couple of years. Rider footwear utilizes different types of comfort technologies to maximize foot support and inner sole aeration. Rider flip flops have gone from being the perfect after sport footwear to being a diverse selection of sandals that are perfect for all active and nonactive lifestyles.
Rider Flip Flops – Environmentally Friendly Sandals
Currently located in Orlando, Florida, Grendene USA Inc. is the world's largest flip flops manufacturer, currently producing all of Rider's flip flops. All Rider flip flops are made from 100% recyclable material, and the company is currently taking serious measures to protect, preserve, and restore the environment. Rider flip flops are also lightweight, durable, and relatively affordable, making them an economically feasible choice for men, women, and children of all ages. The following information briefly reviews the various types and styles of Rider flip flops available on the market today.
Main Types of Rider Flip Flops
Rider flip flops are offered in three main types – Aftersport, Casual, and Beach. Aftersport Rider flip flops are designed for athletes that need comfortable, high-performance slide on sandals after volleyball games, surfing, rockclimbing and any other athletic activities. Casual Rider flip flops are designed for maximum comfort and style, and are typically more expensive than the other two types. Beach Rider flip flops are usually waterproof, and are specifically designed for individuals that love the feeling of sand between their toes on a hot summer day. The athletic aftersport line of Rider flip flops generally have more futuristic designs and are comprised of foam composite materials, while the casual line utilizes more relaxed design structures and materials such as soft genuine leather. The Beach line of Rider flip flops are intended to be extremely flexible and durable, for long walks on the shore.
Patented Rider Flip Flops Technology
Each pair of Rider flip flops is manufactured using at least one of ten comfort technologies – Airflow, Ultra-Fresh, Airfit 365, Hydronic Cooling, Drytraks, Softform, Flexpand, Archfit, Airphibius, and Aerogel. A prime example of the ingenuity of Rider footwear technology is their newest addition – AirFlow - which is aerodynamically designed to facilitate increased airflow circulation under and around the foot via a waffle-texture molded inner sole. The majority of Rider flip flops contains two or more of the aforementioned comfort technologies, making them well worth the cost. The Aerogel comfort technology is an exclusive internal gel support structure, which is stabilized by flexible air columns that evenly distribute impact caused by walking, jogging, and running. Aerogel and Airflow are consistently being added to new styles of Rider flip flops, and therefore the main staple of the comfort of Rider flip flops, which is based on breathability and impact support.