Havaianas Flip Flops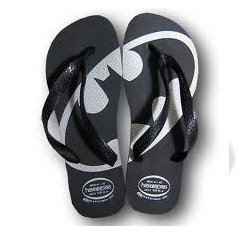 If you don't already own a pair of Havaianas flip flops, you are in for a real treat. Not only are they among the trendiest styles on the market, they are manufactured for comfort. With a cushioned inner sole and a significant number of these manufactured from recycled materials for the benefit of marine life, Havaianas are preferred by men, women and children around the globe for both comfort and their eye catching designs. To get an idea of just how many unique designs are available, take a look at the following Havaianas flip flops for men, women and children. And remember, these are just a small sampling of literally hundreds of styles and limited editions available!
Women's Havaianas
Slim Peacock – One of the loveliest of Havaianas flip flops, inspired by the whimsical peacock feathers that are sacred in India. Available colors are navy/silver, white/silver, tulip and grey. Sizes 5/6 thru 11/12.
Conservation International – Limited edition available in three styles including white, navy blue and turquoise. Design depicts Brazil's marine life. A portion of each sale goes to biodiversities for environmental awareness and research.
Surf Girl – Reminiscent of the 60's flower power motif, available in navy blue or white. Comfortable and fashionable, these are an all-time favorite that sell out quite quickly when in stock.
Men's Havaianas
Trend – Geometric designs in neutral colors, men's Trend Havaianas are the height of comfort without sacrificing fashion. Available in 6 styles including black/grey, grey/phosphorus, white/navy blue, black/red, navy blue/light grey and white/green in sizes 7/8 through 12/13.
Aloha – Designed to highlight the Hawaiian oceanside spirit, Aloha flip flops are available in two styles which are white and black/black. The Hawaiian State Flower, the Hibiscus, is the focal point for the design on both styles.
Nite – This is one of their more unique designs with glow-in-the-dark embellishments. Available in four styles; ice, grey, white/grey and grey/black in 7/8 through 12/13. You will certainly be seen any time of day or night in this pair of Havaianas!
Kids' Havaianas
Kids' Superheroes – These would be ideal for that little boy who idolizes superheroes, the good guys who keep evil at bay. Available in three unique styles which include blue sky, navy blue and ice in sizes 8C, 9/10C, 11/12C, 13C, 1/2C and 3/4C.
Baby Pets – This is the perfect flip flop for those little people. With 8 unique designs, each featuring a different animal, this are sure to be a hit! Available in sizes 4/4.5 to 8C.
Kids' Fairy – What a wonderful flip flop sandal for those little girls who still believe in fairies! This shoe comes in hydro green or light lilac in sizes 8C through 1/2C.
Because each and every pair of flip flop sandals designed by Havaianas is among the finest in the world, you will want to have at least one pair for every member of the family. You just won't find a more comfortable or fashionable pair of sandals than Havaianas flip flops.