Sanuk Yoga Mat Flip Flops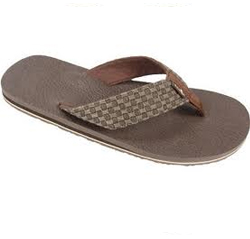 Sanuk (a company whose name originated from the Thai word meaning "fun"), was theoretically conceptualized more than a decade ago in 1997, when founder Jeff Kelley began manufacturing small batches of sandals comprised of inner tubes and standard housing carpet. The company, which is headquartered in Southern California, had officially began business operations by the next year (1998), and since then has amassed a healthy customer base with distribution centers in the United States and in more than 50 foreign countries throughout Asia, Europe, Australia, South America. The Sanuk brand is currently sponsored by a well-known group of professional extreme athletes which include surfers (i.e. – Dave Rastovich) and rock climbers (i.e. – Chris Sharma). One of the newest product lines introduced by Sanuk which is truly "superfunktional" is their Sanuk yoga mat flip flops, which are briefly reviewed and described in the following paragraphs.
The Main Attributes of Sanuk Yoga Mat Flip Flops
Owners of the payroll Sanuk yoga mat flip flops will be quick to tell you that they are comfortable, stylish, durable, versatile, and are incredibly ideal for travel, beachwear, casual wear, and overall daily usage. If you're looking for a pair of flip flops that will match your active and meditative lifestyle, then a pair of Sanuk yoga mat flip flops may be the perfect footwear for you. Yoga mat flip flops are perfect for all foot types, including individuals with a high arch and those with a flat arch. Sanuk yoga mat flip flops are specifically designed to have an inner sole that matches the consistency and feel of a conventional yoga mat.
Types and Colors of Sanuk Yoga Mat Flip Flops
There are currently five different types of Sanuk yoga flip flops (which includes the Sanuk yoga mat flip flops) offered in 10 different colors, including turquoise, brown, black, navy blue, gray, yellow, orange, pink, red, and white. The other four yoga flip flops included in the Sanuk Yoga line are the Yoga Spree, Yoga Twist, Yoga Safari, and Yoga Mat Primo. Sanuk recently added four new spring colors to the Yoga Mat line, making them one of the most colorful and comfortable types of sandals. According to customer reviews on the official Sanuk website, Sanuk yoga mat flip flops are perfect for individuals in our comfort and style driven.
How Much Do Sanuk Yoga Mat Flip Flops Cost
The average cost of a pair of Sanuk yoga mat flip flops is about $25-$30, depending primarily on the retailer and whether or not the shoes are on sale at the time of purchase. In fact, the entire yoga line of Sanuk flip flops fall under the same general price range, costing no more than $40 at the highest retail cost. Purchasing a pair directly from Sanuk through their official online catalog is the best way to save money and gain access to the largest selection of Sanuk Yoga Mat flip flops. Since yoga mat flip flops are extremely light, shipping and handling costs are usually not a factor when calculating the total expense of purchasing a pair online.