Justin Flip Flops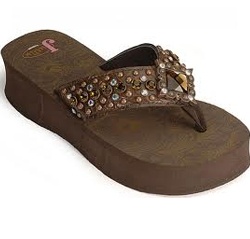 Flip flops are shoes with a sole, and a strap that holds that sole to your feet. With such a simple design, it is no wonder that flip flops are themselves not known for their style. But as with any problem, in this case having a comfortable flip flop that is also stylish, this problem also has a solution. The solution is called Justin flip flops.
If you want style, and embellished shoes that are crafted with the best sequins, flowers and other attachments, you can hardly do any better than choose Justin flip flops for women. Their embellished and dressy flip flops are a treat to watch, and wearing them is surely an experience in itself, as many have found out. Here we talk about some of the best Justin flip flop models for women, and where you can buy them.
Best Justin Flip Flop Models
Justin Ladies Jeweled flip flops have a strap that is adorned with white and green sparkling jewels, which contrast with the body and the strap, which come in various colors. Even the jewels that are used come in different hues, and can be selected for varied colored dresses in your wardrobe. Priced starting at $79, they is also available at many stores, like cavenders.com, for as low as $63. Justin also calls these flip flops by the name of sandals, which is just another name of flip flops.
In this Jeweled collection, you should check out the Justin ladies Brown Croc flip flop. Its crocodile strap is adorned with bronze brads and amber rhinestones. This flip flop has a 1 3/4" wedge heel.   
Pink rhinestones are what adorn the Jeweled Audrey Ladies Brown Calf Flip Flop. The body is brown, and so is the strap, which is 1 ¼" wide. Comfort and style go hand in hand with this Justin flip flop, as they do with this whole collection of flip flops.
Where to get Justin Flip Flops
When you want to check out their collection of flip flops and other shoes, the best site is of course their home site. Allowing you to pay using credit card and other means like Paypal, their website's interface is very easy to use. Sometimes, they will offer discounts on their flip flops on their site right away. Bt many a times they do not. In which case you can as easily choose the flip flop you want to buy, and head over to E-bay and Amazon.com for some bargain hunting. At Amazon, you can also read reviews for the Justin flip flops you are there to buy. These customer reviews will let you know whether your choice is sound or not.
E-bay is al always a great place to get good bargain. But before choosing a reseller, check out their feedback score. You do not want to get burned by some first-time seller with nothing to back them up. Also check your sellers return policy and shipping costs. This is applicable for Amazon or any other online store too.