Tory Burch Flip Flops Sale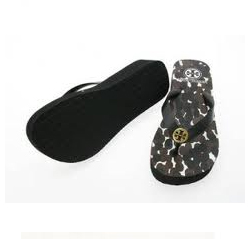 Tory Burch is a brand of footwear was launched in 2004 with the goal of providing luxurious, yet affordable classic American footwear. Today, Tory Burch shoes are available in over 450 department stores throughout the United States. The shoes are characterized by unique graphical designs, outstanding colors, and exotic detailing that have attracted celebrities like Jennifer Lopez and Hilary Swank to the brand. The same attractive attributes can be seen in Tory Burch's flip flops, as they are sold in a wide variety of styles and colors that traditional flip flops lack. Shopping for flip flops at a Tory Burch flip flops sale could be the most pleasurable and colorful shopping experience of woman's life.
What to Expect at Tory Burch Flip Flops Sale
The price of a Tory Burch flipflop can range from $45-$200, depending on the model, size, demand, and specific retailer. The Flip flops are comprised of various materials including foam composite, patent leather and traditional leather. Tory Burch officially offers 17 different types of flip flops at the moment, with designs ranging from the artistic Tory Burch foundation flip flop to the more luxurious patent Miller thong or tumbled leather flip flop. The Jelly Thora line of Tory Burch flip flops are the ideal midpriced selection, offering style, grace, vibrant colors and light weight comfort that is unparalleled by other rubber flip flops.
Tory Burch Flip Flops Colors and Styles
Tory Burch flip flops are offered in a plethora of styles and colors such as blue, pink, orange, snakeskin, gray, black, metallic, cream white, beige, and even turquoise. The leather and foam composite style flip flops are ideal for outdoor and beach wear, while the patent leather and metallic flip flops are ideal for special occasions and match well with formal outfits. The Tory Burch logo adorns the front of every flip flop, reminding onlookers and the wearer of the quality and craftsmanship that goes into each authentic pair. The standard Tory Burch flip flops comprised of foam composite materials cost approximately $45 and are therefore the most economical choice for women that want quality without compromise, and without spending an exuberant amount of money.
Reasons to Visit a Tory Burch Flip Flops Sale
While you're shopping at Tory Burch flip flops sale, it is likely that you'll find some of the items from their Tory Burch foundation line, the sale of which contributes to the Tory Burch foundation – an organization committed to providing economic opportunities to women of all backgrounds and their families. Tory Burch flip flops are typically considered higher-end footwear for women, so the opportunity to find a pair at a discounted price should not be overlooked. A Tory Burch flip flops sale is perhaps the best place to find quality flip flops that will last you for years to come and impress all of your friends on that special occasion, or on an ordinary day at the beach. The best sales will undoubtedly be found online, where a larger selection is likely to be seen. However, the cost of shipping and handling, and the uncertainty of whether the flip flops will fit and feel comfortable, leads many people to search for a local Tory Burch flip flops sale.