Havaiana Flip Flops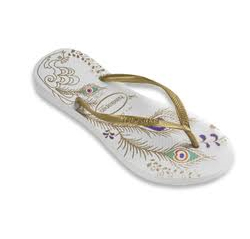 If ever you thought you had died and gone to flip flops heaven, it would be while browsing a Havaiana flip flops catalogue! These are the shoes that any self-respecting flip flops aficionado will have in his or her closet, and chances are there will be several pairs in a number of styles and colors. Havaiana Flip Flops are available for men, women and kids and each year new innovations keep this company on the forefront of trend setting beachside style in rubber footwear.
Men's Havaianas
Men's Havaiana Flip Flops can be found in eight different fashions, each with more than one style. Although each fashion is assembled uniquely, the styles provide a unique color or pattern within those categories. Only the Teams category which was a limited edition for the summer of 2010 may be out of stock in one or more of the 12 teams they manufactured. In order to visualize the sheer numbers of flip flops manufactured by Havaiana, this is what is available in the men's catalogue:
Brazil – 5 Styles
Top – 4 Styles
Top Metallic – 1 Style
Teams – 12 Styles
Trend – 6 Styles
Aloha – 2 Styles
Casual – 1 Style
Surf – 2 Styles
When you stop to look at it that way, there are an amazing 33 different pair of Havaiana Flip Flops for men to choose from! But if you think the men have some choices to make, the ladies choices are even more insane.
Women's Havaianas
If you thought the men had a lot to consider when shopping for Havaiana Flip Flops, the ladies can go absolutely wild. There are 15 different types, and again, each of those has several different styles to consider. The women's line includes:
Top – 12 Styles
Slim Turkish – 4 Styles
Slim – 9 Styles
Brazil – 5 Styles
Teams – 13 Styles
Fit – 5 Styles
Slim Peacock – 4 Styles
Slim Ethnics – 4 Styles
Slim Season – 2 Styles
Fun – 4 Styles
Top Mix – 3 Styles
Spirit – 4 Styles
Surf Girl – 2 Styles
Top Metallic – 7 Styles
Summer – 4 Styles
Whereas the men only had to think about 33 different styles, the ladies have 82 to look at. We all know that when a lady goes shopping it's an all day adventure, so how long do you think it would take her to choose between 82 pairs of Havaiana Flip Flops?
And last but not least there are the kids/babies flip flops to look at. Without going into their list, which is even more extensive with 23 fashions to look at, you can see why Havaiana Flip Flops are the world's leader in trend setting rubber casual sandals. Since 1962 Havaiana has been on the cutting edge of flip flops fashion and while other designers may try to imitate them, there is room for only one Havaiana in the world. Of course, with an assortment like that, that's all you need!