Havaianas Slim Flip Flops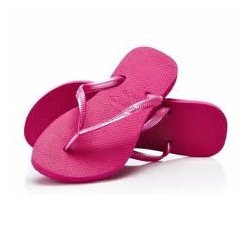 Havaianas slim flip flops are perfect for long summer days on the beach and by the pool, and with their unique slim style provide a look and feel that is unmatched. What really sets them apart is the thin molded rubber upper strap, which contains the stylish Havaianas logo. The mid sole is also shock absorbent, making them perfect for walking long distance on boardwalks or beaches, without getting sore feet. The out sole is also made of rubber and has considerable traction, giving the wearer optimal footing on sandy surfaces. Havaianas slim flip flops are considered to be women's flip flops because of their slim and petite design.
Choosing a Pair of Havaianas Slim Flip Flops
Havaianas slim flip flops come in an assortment of types and size, however it is important to note that these flip flops are made in Brazilian sizes, which differ from those found in other areas of the world such as the United States or Europe. Thus, when shopping locally, you may need to take this into consideration. Shopping online at the Havaianas web site does not present this problem because shoppers can choose their home country before browsing. Choosing the appropriately sized pair is crucial to ensuring maximum comfort and value for your money. You should also choose a pair that will match your outfit or planned wardrobe during your vacation. Fortunately, these flip flops are relatively inexpensive, so buying several pairs in different colors is certainly an option for most people.
Who Wears Havaianas Slim Flip Flops?
Havaianas slim flip flops are specifically designed to accommodate the comfort needs of females with smaller feet. The sole unit of the shoe and the toe are both slimmer than a traditional flip flop, so the loose fitting feel that small-footed women experience is completely eliminated and a more personalized fit is provided. Men with smaller feet may also find Havaianas slim flip flops to be more comfortable than larger flip flops, which tend to irritate the area between the toes due to excessive leeway. If you have had problems with flip flops being too large or uncomfortable in the past then Havaianas slim flip flops may be the perfect fit.
Havaianas Slim Flip Flop Colors
Havaianas slim flip flops come in the following 12 colors:
Pink
Violet
Burgundy
Turquoise
Light Rose
Navy Blue
Strawberry Rose
Dark Brown
Grey
White
Grey/Silver
Sand Grey
As can be seen by the above list of colors, although Havaianas slim flip flops are marketed towards women, they may be worn by males as well, particularly the navy blue, grey, dark brown, white, grey/silver, and sand grey colors. Multiple camera angels are available on the Havaianas web site, which lets you get a good 3 dimensional view of the flip flop before buying. If you're unsure about whether your feet will feel comfortable in the slimmer design of these flip flops, you may want to consider shopping locally in order to try them on first.